Covid-19 Reopening Statement 28th April 2021
Subject to Irish Government public health advice and restrictions, Wild Atlantic Seaweed Baths intend on returning to work and wish to make publicly available the measures we're implementing in light of the changed environment that has occurred as a result of Covid-19.
In terms of going forward for which we hope we can continue to operate, we will making the following undertakings and equally we will be making a few requests of those visiting us bearing in mind these are all subject to change as may be required.
– Provide sanitiser stations for seaweed bath operators and those visiting the baths
– Ensure our seaweed baths are at the required distance and where necessary, we will reduce the number of baths available to allow us adhere to social distancing guidelines
– Empty, scrub and rinse every bath in between each use (As Always)
– To employ steam cleaning technology so as to sterilise our seaweed baths and overlapping points of contact that have the potential to act as a transmission vectors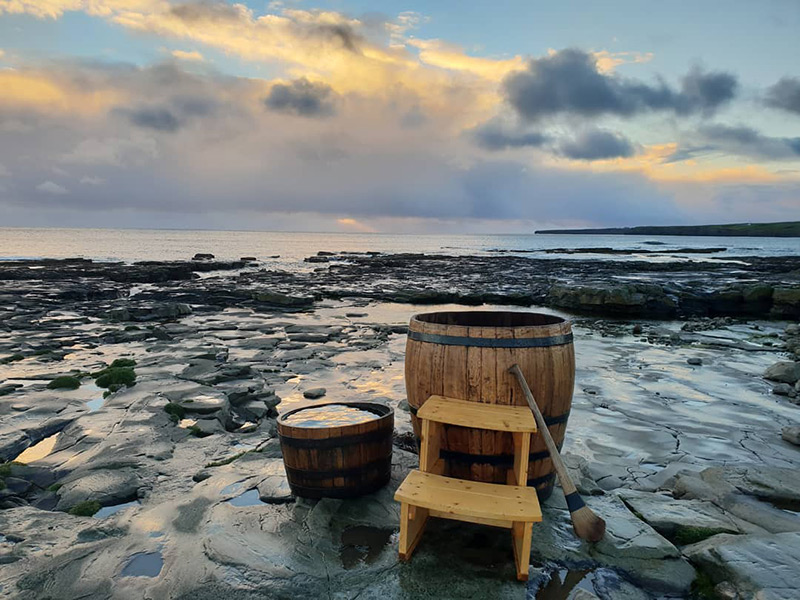 Our request of those visiting:
.- Please adhere to social distancing requirements
– To provide and bring with you your own hand sanitiser if possible
– If using a bath with another person, to only do so with someone you live with or within your family group
– To not visit the baths if you have any Covid-19 symptoms or are awaiting Covid-19 test results. Covid-19 symptoms include high temperature, shortness of breath, breathing difficulties or a cough
– To please arrive at least 15 minutes early letting us know of your arrival and booking name where we will, as always, attempt to have you in your bath on time if not ahead of schedule. 
– Outstanding payment for your bath if being used by more than one person will be acceptable before use of the baths.  If using a voucher, please present evidence of your voucher either on your smartphone or by way of print off.
– To please afford us patience as we adapt to this changed environment and to please tell us directly if you believe there are improvements we can make to our operating procedures.  We welcome any feedback you may have.
Finally, on behalf of the Wild Atlantic Seaweed Baths Team and as always, we're extremely grateful for the support and welcome we have received since we launched in 2018 and look forward to seeing many of you soon.
Owen Boyden
Managing Director
Wild Atlantic Seaweed Baths